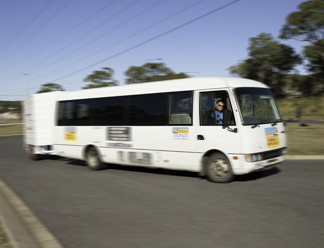 CHARTERS  FOR  EVERY  OCCASION
Do you have a group of people you want to move and need a reliable and friendly charter service around the Capricorn Coast, Rockhampton and Central Queensland?
Little Johnny is renowned for getting you there 'on time' and his personal, reliable and 'always with a smile' service can't be beaten.
Activities

Festivals

Sporting and Cultural Events

Conference Transfers

Private Functions – dinners with friends, weddings, golf and race days

Transfers to the Rosslyn Bay Mariner
Whatever your need we can customize your charter. Great Service is important to us.  We aim to provide flexible charters to cover the needs of various sized groups. Our service allows people to enjoy their outing, maybe have a few drinks and not have to rely on taxi availability.
We offer a range of packages from single pick-up and delivery service to the full door-to-door package.